A World of Choice Awaits at Concord Park Senior Living
Concord Park offers local seniors a secure, supportive and independent lifestyle. The community features both independent and assisted living options as well as a state-of-the-art Compass Memory Support Neighborhood® featuring innovative, research-based programming for those with memory loss developed in affiliation with the Boston University Alzheimer's Disease Center.
Located in the heart of historic West Concord Village, the community is surrounded by landscaped grounds that include walking trails and picnic area on the Assabet River. Residents enjoy an enriching, supportive lifestyle with personalized services, innovative EnrichedLIFE programming, a fine dining experience featuring our award-winning Brain Healthy Cooking Program, and upscale amenities including a full service salon, country kitchen, library, sunlit community rooms and outdoor landscaped patios.
Concord Park is a Volunteers of America Massachusetts Senior Community and the organization's first senior community in Massachusetts to offer this combination of housing and supportive services. The community is professionally managed by Senior Living Residences of Boston, a trusted name in senior housing and care with families and eldercare professionals since 1990. If you are interested in our lovely community, call now to schedule a visit! 978.369.4728.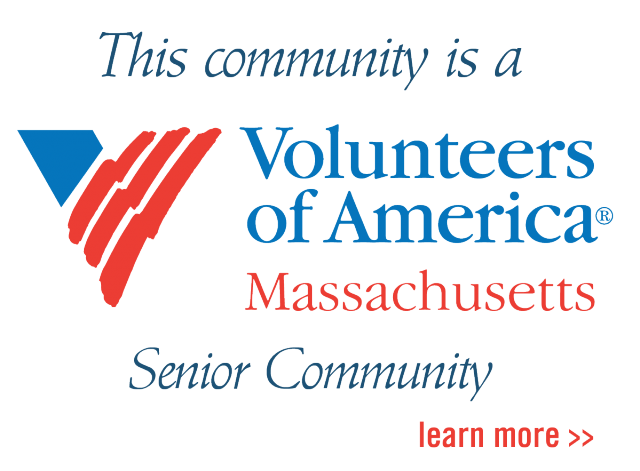 Check Out What's Happening at Concord Park
Community News
More From Concord Park on Facebook
March Events
WEDNESDAY, MARCH 7
Historian Bruce Hambro will give a lecture on famous 20th century composer Cole Porter at 2:00 p.m.
FRIDAY, MARCH 9
History At Play Productions featuring Judith Kalaora's historical reenactment, "I Now Pronounce You Lucy Stone" at 2:00 p.m.
FRIDAY, MARCH 16
Join us for a Saint Patrick's Day celebration with Russ Carlton at 1:30 p.m. Russ' repertoire includes more than a thousand songs!
THURSDAY, MARCH 22
Come and shop at Suzie Lee's Trunk Show from 11:00 a.m. to 2:00 p.m.
FRIDAY, MARCH 30
Soprano Stephanie Hollenberg performs classical vocals at 2:00 p.m.
"Experience what it's like to be a part of our community. Join us for one of our many events. From live music performances to art demonstrations and our robust Discovery Learning Series programs, we offer a monthly calendar loaded with opportunities for residents to experience what they love. Take a tour, enjoy a program and let us answer your questions! Ask me about our upcoming events."
-- Jamie McWilliam, Interim Executive Director