Senior Living Residences Wins National "Innovation" Award For Its Brain Healthy Cooking Program
September 2012 – Senior Living Residences (SLR) is the proud recipient of its second Spirit of Innovation Award which recognizes companies for their innovation, dedication to continuous improvement, development of best practices, and commitment to the success of the assisted living and long-term care industry.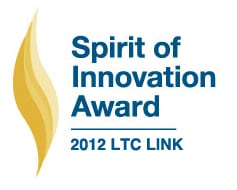 SLR was recognized for developing and implementing its comprehensive Brain Healthy Cooking Program to improve the diet of seniors in its communities, and for its extensive public education campaign promoting the benefits of brain healthy cooking for baby boomers and seniors alike.
Tadd Clelland, Executive Vice President & Partner of SLR, presented the company's case study at the 2012 LINK conference this summer in Chicago where he accepted the award on behalf of the firm.
He said, "A growing body of scientific research points to the important role played by diet in the cause, prevention and management of Alzheimer's disease. In 2009, after we launched the Brain Healthy Cooking Program, the foundational principles of what we are doing was affirmed by the most comprehensive study done to date describing a direct connection between diet and cognitive health. Researchers found that individuals who adhered to a "Mediterranean diet" had a 32-40% decreased risk for developing Alzheimer's disease. SLR's Brain Healthy Cooking Program includes all of the basic elements of the Mediterranean diet and goes well beyond it with its cognitive health protective factors."
"Brain healthy" eating can provide protective health benefits for people of any age whether or not they are already displaying symptoms of memory loss. Based on this knowledge, SLR is committed to public education around the issue of brain healthy cooking and eating and utilizes presentations, published articles, and CEU classes for health care professionals, as well as the SLR Alzheimer's Care Blog and web-based Brain Healthy Cooking Guide to bring public attention to the issue.
Clelland said, "Our program has been an incredible success. Our executive chefs are working together to create new brain-healthy recipes daily. Our residents gave a whopping 99% rating for SLR's dining program in our most recent customer satisfaction survey. In the towns and cities we serve, our leadership around brain healthy cooking differentiates us from the competition helping to push our occupancy levels, consistently beating regional and national averages."
Bailey Beeken, Vice President and Conference Director for LINK, said, "The goal of the Spirit of Innovation Award is to help advance business productivity and greater quality of care and foster innovation in senior living and long term care. The Spirit of Innovation Award winners not only developed unusually successful business initiatives but have also demonstrated a willingness to share their great ideas with others in support of this mission."
About LTC & Senior Living LINK
The LTC LINK annual conference is for senior management from organizations with revenue 500+ beds/units and/or over $30 million. With a combination of peer-to-peer education, networking and consultative business meetings, it is an incredibly efficient venue for executives to learn best practices that drive profitability, quality and growth.
About Senior Living Residences
Senior Living Residences (SLR) is an industry leader in the creation of service-enriched housing and care options for seniors in New England. The privately-held firm, among the founders of assisted living in New England, has been on the cutting edge of providing innovative quality programming for seniors and topnotch management services for clients for over 20 years. Adhering to its core "Right Values"—Resident Quality of Life, Valued Associates, Integrity and Innovation—SLR is a trusted name in the industry. Partnering with equally committed organizations, such as the Boston University School of Medicine's Alzheimer's Disease Center, SLR remains at the forefront of research-based care for seniors, and is putting cutting edge research to work in its branded Compass Memory Support Neighborhoods™.