The Link Between Staying Social And Aging Well
"Successful aging, like … feeling tickled, can best be achieved in relationship," according to Dr. George Vaillant from Harvard University. Whether your social connections are with a spouse, children, siblings, bridge partners or fellow churchgoers, they're crucial to maintaining good health while growing older.
A 2011 Gallup poll found that the more time older adults spend socially with friends and family, the more likely they are to report happiness and enjoyment in their lives without a lot of stress and worry. With over 31,000 Americans surveyed, 72% of participants aged 65 and older who reported engaging in social activity six hours a day described a high level of enjoyment and happiness. Most seniors valued their social relationships, ranking relationships with family and friends second only to health as the most important area in their life.
Dr. Teresa Seeman from UCLA's geriatric department explains the health implications of socialization on the mind saying, "Older people with satisfying social relationships remain more mentally alert with less age-related mental decline than people who were more isolated." The importance of socialization is further emphasized by The World Health Organization, which reported that social isolation can lead to premature death, lower general well-being, more depression and a high level of disability from chronic diseases.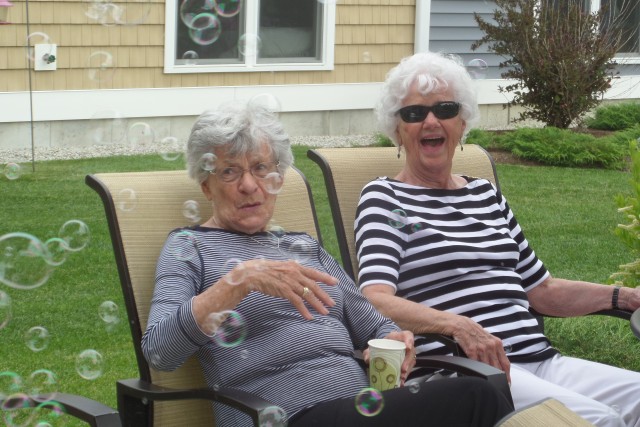 The Social Benefits of Joining a Senior Living Community
---
Those who study and work with older adults agree that one of the best ways for them to consistently benefit from social opportunities is to move to a Senior Living community. The International Longevity Center in New York City explains that a smooth transition into a community is based on whether the new resident is mastering their new environment, whether they have a sense of purpose in life going forward, and whether they are developing positive relationships.
At our Assisted Living communities, we are sensitive to these issues and we have experience creating environments that are focused on helping residents make the most successful transition possible. After their move, residents will have a world of possibilities waiting. Our EnrichedLIFE calendar is filled with meaningful opportunities for them to pursue hobbies, knowledge, fitness, music and the arts. Our goal is simple: to foster each of our resident's independence with the understanding that help is available should they need it.
An Assisted Living resident, interviewed for a recent industry study, offered some advice of her own to individuals considering a move. "Keep busy, try lots of activities and make new friends. You have time…USE IT!" She added, "Don't put it off. Join a community while you are in charge and healthy."