Understanding the Veteran's Aid and Attendance Benefit and How it Can Help Offset the Costs of Assisted Living
The Department of Veterans Affairs provides an Aid and Attendance Pension to eligible wartime veterans and their surviving spouses which can help offset the expense of a senior living community, home health care or a nursing home. If the veteran qualifies, Aid & Attendance funds are provided in addition to monthly pension and Social Security benefits.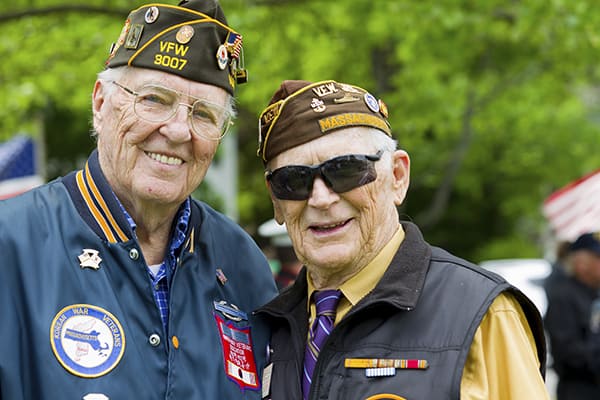 Veterans may qualify for as much as*:
---
Married veteran: $2,642 per month
Single veteran: $2,229 per month
Healthy veteran with an ill spouse: $1,749 per month
Surviving spouse: $1,336 per month
* 2023 rates
The Aid and Attendance Pension is available to veterans with honorable military service of at least 90 days, with one day during a period of war. Veterans do not have to have seen combat, been injured, or left the United States to be eligible for this valuable benefit.
The veteran or spouse must need the "aid and attendance" of another person to help him or her with some routine daily living activities, such as medication management or showering. These "activities of daily living" are what Assisted Living communities provide assistance with.
The final requirement is financial need. The VA looks at monthly income from all sources as well as total assets and determines financial eligibility based on a rate table. The good news is that veterans are able to deduct unreimbursed monthly medical expenses from their total income and assets, and at least 75% of the cost of an Assisted Living community and 100% of a nursing home monthly payment is considered a monthly medical expense. In some cases, even if you don't meet the financial criteria for a maximum pension, you may be entitled to a partial award.
How We Help Our Residents Access this Important Benefit
---
Senior Living Residences is pleased to partner with a local Massachusetts company to offer a FREE benefits analysis to our residents and individuals who are planning to move to one of our communities (an $800 value) to determine whether they are financially eligible for this benefit. This provider also offers pro bono assistance to our residents and their families in applying for the VA Pension with Aid and Attendance. Our goal is to simplify what can be a lengthy and confusing qualification and application process and help our residents get the maximum allowable benefit. If you are interested in learning more and to get the process started, please speak with one of our Executive Directors. Don't delay – the average time between initial application and approval of benefits is four months!
Visit the VA website for detailed information. You can also contact VA Benefits at 800- 827-1000 for the Veteran Service Office (VSO) in your area.
Learn More About Your Financial Options
Researching senior living options? You may also be interested in: