Everything You Want To Know About Assisted Living Costs
How much does Assisted Living cost per month?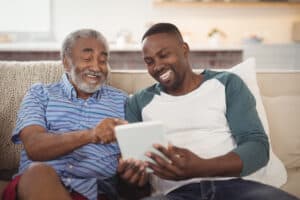 The cost of assisted living can vary widely but is, at the core, based upon the type and features of the apartment and the amount of services needed by a specific resident. Monthly fees cover rent, utilities, the dining service, housekeeping, personal care and many other services and amenities. There may be additional charges for items such as guest meals, room service, special recreational events, transportation, personal laundry, etc.
In Massachusetts, consumers can generally expect to pay between $3,500 to $7,500 per month for "traditional" Assisted Living with some communities lower and some higher. Alzheimer's and Dementia Care is more expensive, with a typical range of $5,500 to $9,000 per month.
It can be hard to compare apples to apples, because Assisted Living communities charge differently for personal care and ancillary services. For example, some residences charge a basic monthly fee that includes some personal care services, while others have service packages in a tiered pricing system, and yet others charge separately for all services on an "a la carte" basis.
Ask each community you are looking at for a full disclosure of costs, including how and when costs may be increased.
How do most people pay for Assisted Living?
Most people pay for Assisted Living with current income from social security and pensions coupled with the use of savings, including the proceeds from selling a home. Long Term Care Insurance is more and more widely used to offset the cost of Assisted Living. Some consumers convert life insurance policies to a loan, and others have family members who help pay a share of the monthly cost.
Medicare and other health insurance plans and HMOs will NOT pay for assisted living services. There is, however, a program for veterans that will contribute over $1,800 a month (and over $2,100 for couples) called the Veterans' Aid and Attendance Benefit.
Financial assistance programs, including Medicaid, may be available for those with limited resources, although not every Assisted Living community participates in these programs. In Massachusetts, for example, there are several programs for low-income seniors, including Group Adult Foster Care (GAFC), Senior Care Option (SCO), and the Program for All Inclusive Care of the Elderly (PACE), as well as Section 8 housing. Recent statistics from the Massachusetts Executive Office of Elder Affairs show that approximately 12% of Assisted Living residents in Massachusetts are enrolled in these financial assistance programs.
Because the vast majority of residents pay privately and every Assisted Living community is different, you are encouraged to speak with someone at each community to learn more about the payment options the specific residence accepts.
What is typically included in the monthly fee at an Assisted Living community?
Typically, the basic monthly fee covers what is necessary for your loved one to live comfortably. This includes an apartment, ranging from shared accommodations to private apartments (studio, 1BR or 2BR), utilities (heat, AC, electricity), maintenance, weekly housekeeping and laundry of bed linens, organized programs for social, fitness, cultural and educational pursuits, and 24 hour staffing. Most often two to three meals per day are included in the basic fee.
Help with personal care needs such as bathing, dressing and grooming, as well as medication assistance, will be available but may or may not be in the basic fee. If not, it will be available at an extra fee, either in a package or on an hourly basis.
Transportation to medical appointments and recreational trips, personal laundry service, beauty salon services, and escorts and reminders for meals and activities may be available. These services may be included in the monthly fee or they may incur extra charges.
What is NOT included in the monthly fee?
Typically residents pay directly for Cable TV, internet and telephone service for their apartment home (although more and more communities have free WIFI throughout the building). Residents pay for their own personal toiletries, health and beauty aids, hairdressing, clothing, medical care, medications, incontinence supplies, and dry cleaning (and they typically pay an extra charge to the Assisted Living community to do their personal laundry).
Very often medication management and incontinence help are not included in the basic fee. Not every resident needs these services – they are considered ancillary and charged for separately.
Is the monthly fee a set rate or does it change?
Most Assisted Living communities have a year-long lease that residents sign, just like renting an apartment. The base monthly fee will be a set amount outlined in the lease, but the total monthly cost depends on the fee system used to calculate personal care where your Mom or Dad lives.
Also keep in mind that most Assisted Living communities will increase their fees every year. Ask the community what their typical increase has been for the last few years. This will give you a good indication what to expect when your one-year lease is up for renewal.
Why do costs vary between Assisted Living communities and companies?
Costs may vary:
By the amount and kind of personal care assistance included in the service package. You may be quoted a price based on your loved one needing no care, a small amount of daily care or a large amount of care. Under a tiered pricing structure in which costs are calculated based on the actual number of hours/minutes that care was provided, initial quotes may not reflect the true costs that your Mom or Dad will actually incur. If your loved one needs more care than the allotted time under the "tier" you are paying for, your cost for care will increase.
By the size, location and special features of the apartment. Accommodations can range from a shared bedroom to a two-bedroom apartment. Some communities charge more for apartments that are considered "prime" for characteristics such as proximity to an elevator, great views, extra closets or oversized windows.
By geography. Land, real estate taxes, insurance, construction costs and labor all vary geographically and they affect the cost of developing and running an Assisted Living community. For example, Massachusetts is more expensive than Florida. Even within the same state Assisted Living communities in wealthier towns will cost more than in other towns and cities.
By the company. Some companies charge more than others, perhaps because they need to maximize profits for stockholders or they have a large corporate headquarters with more overhead.
What is the All-Inclusive Fee System?
In an All-Inclusive Fee System, there is one total monthly fee for housing, meals, activities, housekeeping, laundry and transportation AND personal care assistance with dressing, bathing and other activities of daily living.
The amount of personal care per day that is included within the fee is usually outlined in the Residency Agreement – it may be 1 to 2 hours a day. Before you move into an Assisted Living community you should have an assessment done and a personal care plan developed that covers all the needs of the resident. With all-inclusive fees, charges for additional care should be rare and limited.
Even with Assisted Living communities that offer all-inclusive care pricing, very often medication management and incontinence help are not included. Not every resident needs these services; including them in the basic fee would result in some residents paying for a service they don't need. Some other services that can cost extra in a community offering all-inclusive care pricing is transportation, with or without a staff escort, to medical appointments as well as personal laundry service.
Although all-inclusive is a simple fee structure, under this system a resident who is very independent but enjoys the community's social and dining services will pay the same monthly fee as a resident who requires daily assistance with bathing, dressing and reminders and escorts to programs and activities.
Most families would prefer a community that structures their care packages and fees based on the individual needs of each resident. Be prepared to ask exactly what services and amenities are actually included.
What are Personalized Care Packages?
The monthly cost for Personalized Care Packages is based on the specific personal care and other services required by each individual resident.
With Personalized Care Package pricing, typically one basic fixed fee covers housing, meals, laundry, housekeeping and activities, but personal care services are defined by the individual needs of each resident. The care package is determined prior to move-in, through a wellness assessment, and will take into consideration the personal needs of the resident such as whether they require regular assistance with bathing and dressing, help with managing their medications or specialized programming for various stages of cognitive decline. Residents can access higher levels of care packages as their needs evolve over time.
Having personalized care options is the clearest way for families to know their loved one is receiving care that best fits their needs and lifestyle. Families are consulted regularly, and therefore surprises over monthly bills are minimal should a loved one require additional care. It is important to note that some communities provide residents with all of the daily services outlined in their Personalized Care Package without tracking scheduled or unscheduled services or assistance to the minute. This offers an advantage over those communities that charge residents based upon actual minutes or hours needed to provide services.
What is "Minute-by-Minute" Tiered Pricing?
In "Minute-by-Minute" Tiered Pricing, a basic fixed fee covers the cost of housing, meals, laundry, housekeeping and activities BUT personal care is charged for in tiers determined by amount of time or number of caregivers.
The tiered pricing system is similar to the Personal Care Packages model in the sense that costs depend on the needs of each resident. However, these tiered models include a time or "points" component that defines the price of the package by the specific time spent (minutes or hours per day) as well as the number of caregivers helping the resident. Residents move through the tiers according to the policies and staff of the specific community, and therefore the price can fluctuate greatly month to month.
If you are considering a move to an assisted living community with a tiered pricing structure, be sure to ask a lot of questions about what exactly is covered within the tiers and try to make a realistic assumption about which tier your loved one should be placed in immediately upon move-in. Ask what the staff thinks may happen over the course of the first year, so that your budgeting isn't off kilter. Also, ask what happens to your loved one when they max out the time allotted within their tier.
What is the À la Carte Fee System?
A basic fixed monthly fee covers housing, meals, housekeeping, some laundry and activities BUT all personal care is extra. "A la carte" charges may be tracked by the specific service such as a shower assist or by time. Time is usually measured in quarter hours. Therefore, a two-minute cue can cost one-quarter hour.
As you can imagine, it takes a lot of time and effort for an Assisted Living residence to operate a complex a la carte fee system. A la carte pricing in Assisted Living doesn't allow for predictable budgeting. Each month brings a bill that can be surprising and potentially lead to disputes between residents and their families with the Assisted Living community. What do you do when your Mom, whose memory is not great, says that she didn't have a shower on Tuesday?
What upfront fees should we expect?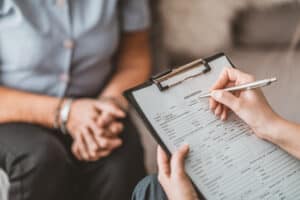 Most Assisted Living communities charge a fee in amounts roughly equal to one half to two month's rent before move-in. It may be called a Community Fee, a Health & Wellness Assessment Fee or something similar. Typically, this fee covers:
The cost of the healthcare/wellness assessment. This is usually done by the community's nurse.
The service plan. Developed in consultation with family and the resident's physician, the service plan covers in detail the specific personal care services the resident needs. Staff help with settling in.
Preparation of the apartment. Painting the apartment and other upgrades may be included or an extra charge – you need to ask.
Additionally you may be asked to pay first and last month's rent and sometimes a security deposit. This is similar to what you would encounter in renting an apartment.
Large upfront fees of $100,000 or more, sometimes called endowments or buy-ins, are not common in Massachusetts Assisted Living communities, unless the community is located within a Continuing Care Retirement Community (CCRC) that typically has Independent Living, Assisted Living and a Nursing Home all on one campus. The large endowment fees or property purchases are also more typical of Independent Living settings, such as retirement communities featuring condos or townhouses with a shared community center and other amenities.
Do Assisted Living fees cover medical services or prescription costs?
That depends on your state. There are different regulations in place which vary state by state.
In most of New England, Assisted Living communities cannot provide any medical or skilled nursing services, but many of them have relationships with local medical professionals who can provide care conveniently onsite, such as Temporary Agency Skilled Nursing (VNAs), Podiatry, and Physical, Occupational and Speech Therapies.
Payment for any of these medical services and any prescription medications will continue to be covered by your loved one's health insurance. Moving to an Assisted Living community doesn't change that. Also residents continue to pay for their own doctor visits, other medical appointments and hospital visits through their health insurance. If a resident takes advantage of the Medication Management Program at an Assisted Living community, the community may recommend a local pharmacy to fill the prescriptions in a convenient pill pack; the resident will pay for their medications directly to the pharmacy.
In the state of New Hampshire, there is a second model of Assisted Living called Supported Residential Care Homes. These communities can offer skilled nursing and/or rehabilitative care and are consequently more expensive.