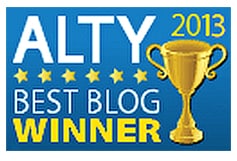 Boston (March 7, 2013) – Senior Living Residences' caregiver focused Alzheimer's Care Blog has won an ALTY Award from Assisted Living Today. This annual award series honors the best articles and blog posts from across the assisted living and senior care industry.
The Alzheimer's Care Blog won the award for its December 2012 post"Beyond Care at Home: When Home is NOT the Best." The post, written by Senior Living Residences' President Robert Larkin, reviews important considerations when assessing the safety of your aging loved one.
"We are all excited to see the Alzheimer's Care Blog receive national recognition," says Larkin. "We hear every day from families and professionals what the blog means to them. We spend a lot of time crafting our content. With all the stress that caregivers are under, it's helpful to provide them with information, guidance, and the understanding that they are not alone in their struggles. An ALTY award will hopefully introduce the blog to some new readers."
The Alzheimer's Care Blog connects family caregivers with leading academic, clinical and dementia care experts in assisted living, as well as guest bloggers with finance, home care, fitness and nutrition expertise, who work day in and day out with individuals living with Alzheimer's disease and the families who love them. The interactive nature of the blog experience provides family caregivers a platform to ask questions of the experts, and also share their ideas, struggles and joys with others in the same situation through the blog's Real Stories feature. The Alzheimer's Care Blog, funded by Senior Living Residences of Boston, MA, is also noted as one of the TOP 50 blogs about Alzheimer's disease in the US and ranks #8 on Sharerank's List of the Best Alzheimer's Blogs.
AlzCareBlog By Senior Living Residences Wins National Award