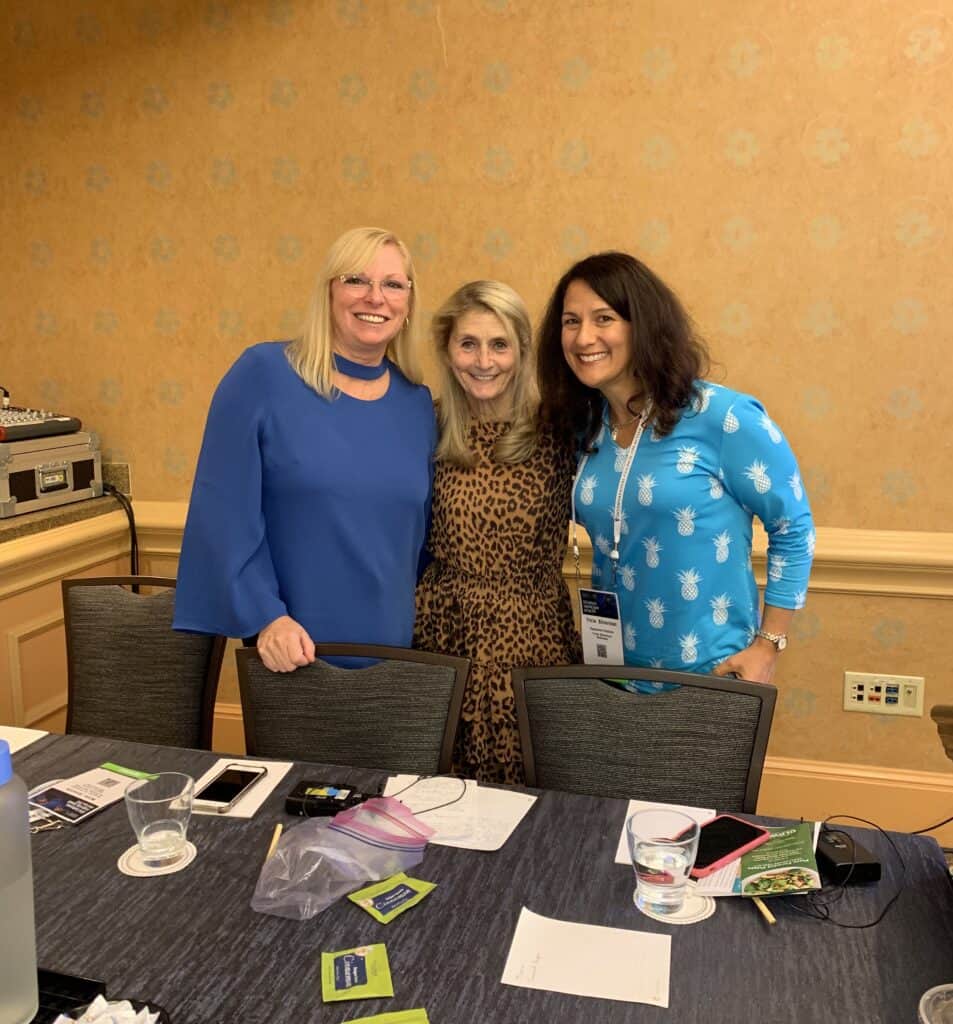 There is no denying that a healthy diet and lifestyle protects your brain and whole body health as you age. However, what makes up a "healthy" diet, and how do we sustain access to foods that are good for us? This was a topic of discussion at this year's International Council on Active Aging Conference (ICAA), Leadership Summit and Expo, presented by local-area food and nutrition professionals Kim Smith and Sara Baer-Sinnott.
Baer-Sinnott and Smith were invited to the ICAA's October 10th – 12th event, held at the Gaylord Palms Resort and Convention Center in Orlando, Florida, to present "The Mediterranean Diet: A Successful Application in a Senior Residence". Workshop guests got an overview of the Mediterranean diet, the science that supports it as one of the healthiest diets and information on how this diet can be adapted for seniors living in a community setting.
Baer-Sinnott and Smith each bring a unique perspective to the topic. Baer-Sinnott is the President of Oldways, a Boston-based food and nutrition nonprofit that also happens to be among the creators of the Mediterranean Diet Pyramid. Smith is the Director of Culinary and Dining Services at Senior Living Residences (SLR), a Braintree-based company that manages assisted living communities across MA and NH. Smith was instrumental in helping SLR launch Brain Healthy Cooking, its first-in-the-nation research-based nutrition program aimed at supporting brain health for seniors. The two groups began working together in 2014 when SLR was looking to access cutting-edge research on the Mediterranean Diet, and to provide expertise advice for their assisted living community Chefs on how to better incorporate healthier "Mediterranean-style" ingredients into residents' favorite desserts and dishes.
In this presentation geared towards eldercare professionals and those working in senior community settings, Baer-Sinnott gave attendees an overview of the nutrition and lifestyle components of the Mediterranean diet, health benefits of the diet, and easy Mediterranean "swaps" you can make. Smith explained how SLR created and implemented its award-winning Brain Healthy Cooking program, which brings residents at each of their 16 assisted living communities healthy, taste-tested, Mediterranean-inspired options at every meal. "It's wonderful to see the Mediterranean diet in action at SLR, helping seniors maintain or boost their health," says Baer-Sinnott.
More information on Oldways can be found at www.oldwayspt.org. More information on SLR can be found at www.SeniorLivingResidences.com, and free brain healthy recipes and tips can be found at their companion website www.BrainHealthyCooking.com.
###
About the International Council on Active Aging (ICAA)
ICAA, a professional association that leads, connects and defines the active-aging industry, supports professionals who develop wellness facilities, programs and services for adults over 50. The association is focused on active aging — an approach to aging that helps older adults live as fully as possible within all dimensions of wellness — and provides its members with education, information, resources and tools. As an active-aging educator and advocate, ICAA has advised numerous organizations and governmental bodies, including the US Administration on Aging, the National Institute on Aging (one of the US National Institutes of Health), the US Department of Health and Human Services, Canada's Special Senate Committee on Aging, and the British Columbia (Canada) Ministries of Health and Healthy Living and Sport. http://www.icaa.cc

About Oldways
Oldways is a nonprofit dedicated to improving public health by inspiring individuals and organizations to embrace the healthy, sustainable joys of the "old ways" of eating—heritage-based diets high in taste, nourishment, sustainability, and joy. Since 1990, we've helped people live healthier, happier lives by offering educational programs, resources, and recipes based on shared cultural food traditions from around the world. It's a mission we take great joy in, one with proven nutritional and emotional benefits. Oldways is well-known for partnering with Harvard School of Public Health to create the Mediterranean Diet Pyramid in 1993, as well as creating the Whole Grains Stamp found on food products. Learn more at www.oldwayspt.org.