Senior Living Residences Shows Commitment to Inclusivity with LGBTQ+ Accreditation
First New England Based Assisted Living Company to Achieve Highest Accreditation Across all Locations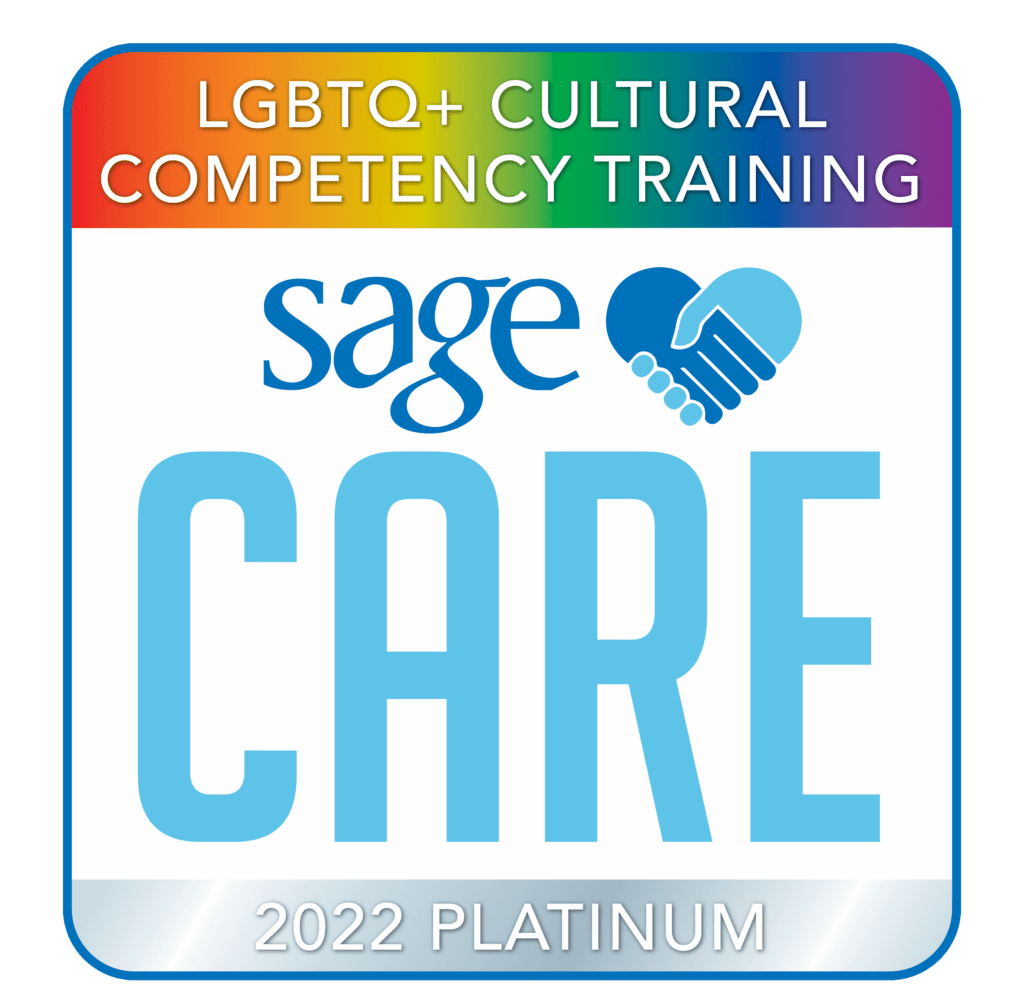 BRAINTREE, MA— It is estimated that there are currently around 3 million LGBTQ older adults in the U.S., and that number is expected to grow to 7 million by 2030, according to SAGE (Services & Advocacy for LGBTQ+ Elders). With this in mind, along with a growing aging population, Senior Living Residences (SLR) has partnered with SAGE to provide a comprehensive cultural competency training to all associates at their 17 Assisted Living communities. SLR has become the first New England based Assisted Living Company to achieve Platinum status across all locations, which means at least 80% of management has gone through a specialized workshop and at least 80% of frontline associates have completed training to gain a deeper understanding of the cultures, needs, and concerns of LGBTQ+ older adults.
SAGE is the country's oldest and largest nonprofit dedicated to improving the lives of LGBTQ seniors. The organization partners with service providers like SLR to offer training, consulting, and the tools they need to provide the culturally competent care that community residents deserve.
"The goal of this training program is to expand and elevate the stellar care our staff are already providing in order to create a supportive environment in which residents can feel celebrated for who they are," said SLR President and CEO, Tadd Clelland. "By making this program part of SLR's regular staff training and professional development program, we strive to build bridges between staff and LGBTQ residents and families by telling real stories and forming connections on a human level."
A leader in the senior living industry for over 30 years, SLR is known for their innovative approach to assisted living and memory care. Their team of over 1,200 associates provide excellent professional care and meaningful support to thousands of seniors each day, united by their "Right Values" approach, which places Resident Quality of Life as their top priority. "This training initiative fits right into SLR's overall mission and values," stated Clelland. "We cannot deliver on our promise to enhance every resident's quality of life unless we make sure everyone, regardless of sexual identity, orientation and background feels welcomed, heard, understood and cared for." As a whole, SLR's network of communities strives to provide a welcoming place in which to live, work, and honor everyone's unique identity.
The achievement of this credential signifies a remarkable accomplishment across the network of SLR communities, marking an incredible step forward in SLR's goal of fostering a more inclusive and accepting environment for LGBTQ residents. Staff across all communities are eager to put their education into practice to build a better future for the aging LGBTQ population.
###
Senior Living Residences (SLR), based in Braintree MA, has been at the forefront of developing and providing service-enriched independent living, assisted living and Alzheimer's care options for seniors in New England for more than 30 years. SLR currently operates 17 senior communities throughout New England. More information about Senior Living Residences and their Compass Memory Support Neighborhood® can be found at www.SeniorLivingResidences.com.
To learn more about SAGECare, visit sageusa.care.